S 530 LEAK DETECTOR
S 530 Leak detector for pneumatic systems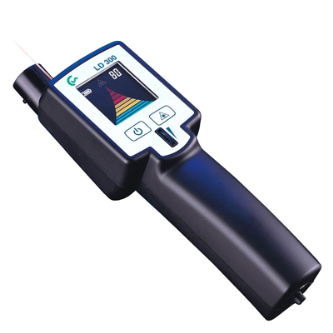 Leak in compressed air systems can cause thousands of Euro losses. The detection of leaks is an important maintenance requirement which traditionally can be done by soap water, but now by an US detector like S 530.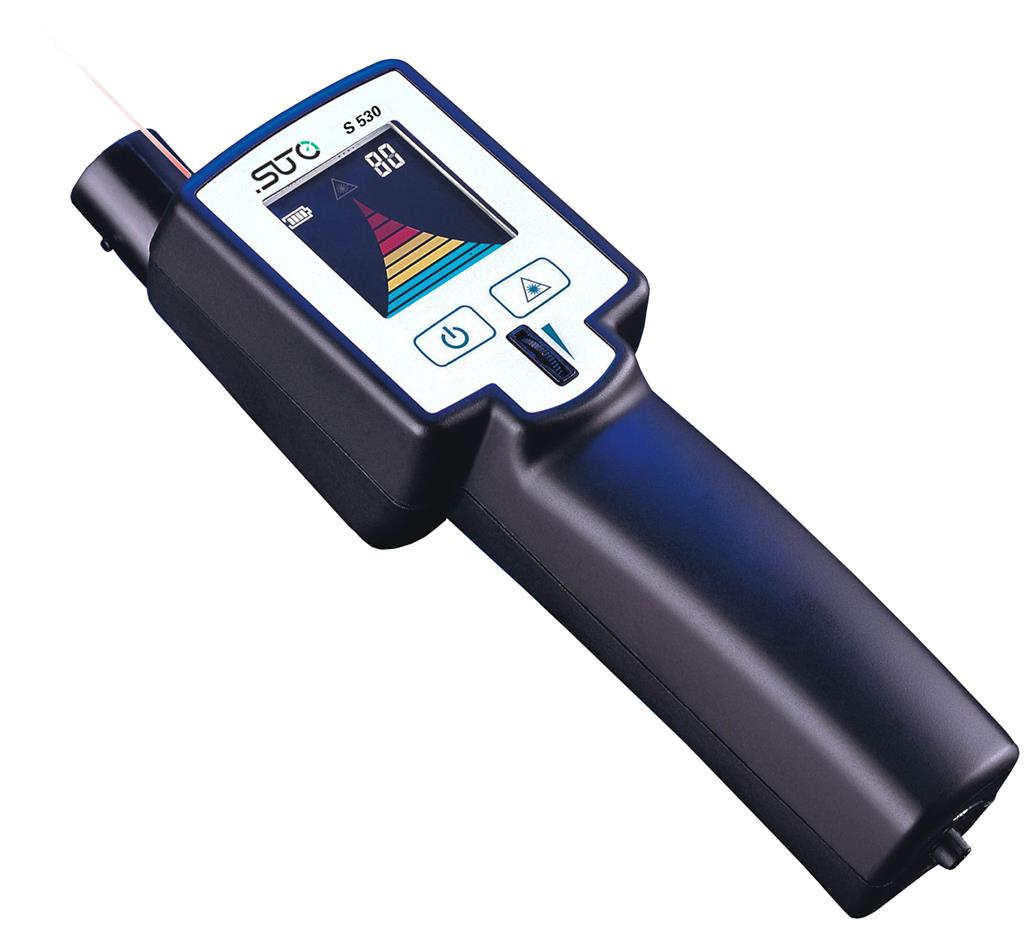 Operating principle:
When gases are leaking through tubes and tanks an ultrasonic sound is produced which can be detected by S 530 even from several meter distance.
S 530 transforms these inaudible signals into a frequency which can be easily heard by using the supplied noise isolated headset. The integrated laser pointer helps to spot the leak from distance. In unpressurized systems an ultrasonic tone generator can be used whose sound will leak through small openings.
Download
​
---
Applications: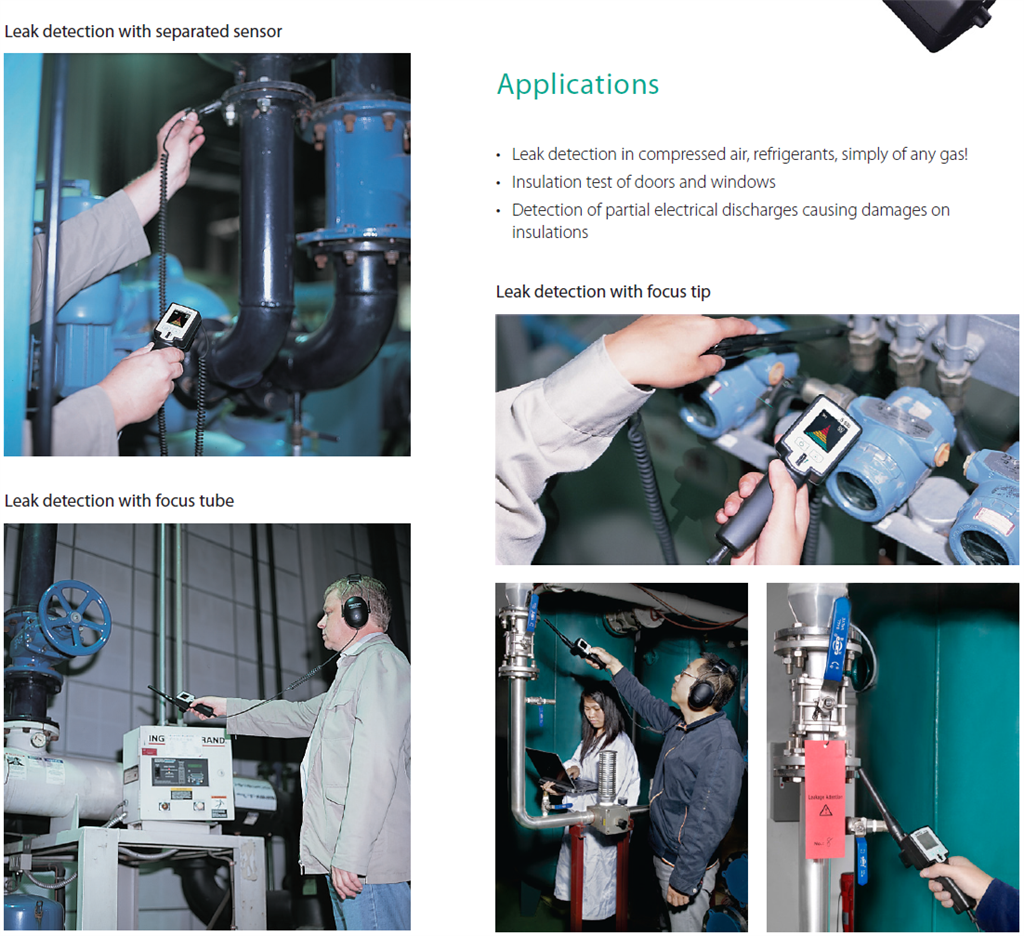 Cost saving:
Compressed air is one of the most expensive energy forms. Only in Germany 60,000 pneumatic systems consume 14,000,000,000 kWh electricity every year. 15% to 20% of this could easily be saved (Peter Radgen, Fraunhofer Institute, Karlsruhe). A large portion of these costs are caused by leaks in compressed air systems. The air "escapes" unused.
Calculation example at 0.6 MPa
1 hole of 1mm diameter = 270 EUR/year
---
Technical Data:
Technical data S530

Operating frequency

40 kHz ±2 kHz

Plugs

1) 4 pole connector shared by headphone and battery charger
2) 3.5mm stereo phone jack for sensor or sensor cable connection

Display

3 color black-mask LCD, 10 level

LASER pointer

640 ... 660 nm wavelength.
0.4...0.5mW output power

Power supply

Internal NiMH rechargeable battery

Operating time

about 6 hours without LASER pointer on
about 4 hours with LASER pointer on

Charging time

around 1.5 hour

Charging operation temp

+10 ºC to +45 ºC(recommended)

Operating temperature:

0 ºC to + 40 ºC

Storage temperature

-10 ºC to +50 ºC

Weight

2.5 kg (full set)

Transport temperature

-20 ... +50 ºC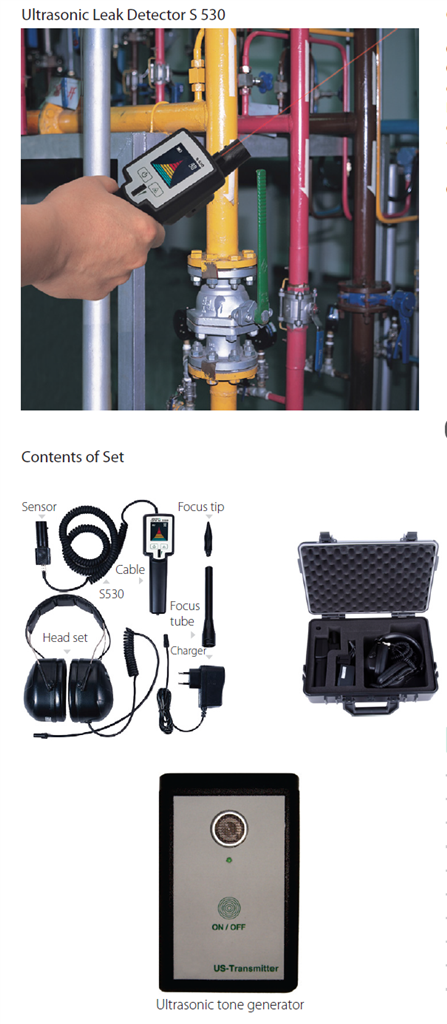 Performance chart

It shows the detection distance of various hole diameters at different pressures (lab environment).

Pressure / diameter

0.1 mm

0.2 mm

0.5 mm

0.5 bar

2 m

2 m

10 m

5.0 bar

8 m

14 m

18 m



---
---------------------------------------------------------------------------------------------------------------------------------------------------------------------------
If you have any querry, please contact us for further details!
Ms. Tham Tran (Alice)
Cell phone: (+84) 907 16 83 73
Email: thamtran@gotek.com.vn
Other products in category