Fan Coil Unit
Fan Coil Unit 340 m3/h - 2,380 m3/h (50Hz)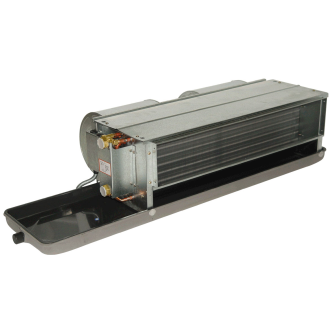 The Fan Coil is designed to meet and exceed the demanding requirements for efficiency and quiet operation.
Water Coil
The water coil has a large heat transfer surface utilizing the latest technology in fin profile. This is combined with security in tube thickness of traditional design. The water coil is also equipped with an air vent valve and water purge screw.
Blower And Motor
Incorporating only specially designed and tested high power-factor permanent split capacitor type blower motors, the enlarged forward curved centrifugal fan provides the optimum in lower r.p.m. airflow-efficiency and QUIET operation.
Quality Drain Pan
The extended, positive slope drain pan is removable and is coated with an epoxy finish for easy cleaning to help prevent microbial growth and to fight corrosion. The drain pan is insulated with a form fitted closed cell insulation to prevent condensation build up on the outside of the drain pan.
Field Flexible Piping Connections
Units are easily converted to opposite-hand connection without requiring additional parts or a conversion kit. Units may be ordered with left hand or right hand piping connections.
Threaded Or Sweat Connections
Units ship standard with threaded connection. A threaded adapter is shipped loose with the unit for easy conversion to a sweat connection.
Microprocessor Thermostat (Optional)
See Control Section for complete details. Main features:
Large LCD, Luxurious appearance
Microprocessor based
Reliable separate power unit
Dual display of room temperature and set temperature
Time display
Heating / cooling / ventilating modes adjustable
Adjustable High/medium/low fan speed and dynamic fan speed display
Thickness is only 13mm
Backlight
Other products in category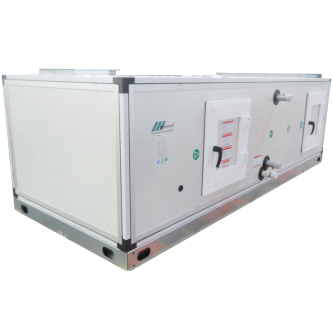 Self-contained AHU
Self-contained AHU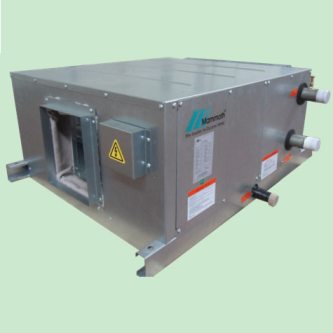 Horizontal AHU
Horizontal AHU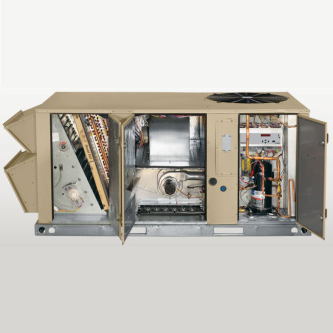 Heat recovery make-up air units
Heat recovery make-up air units