3 in 1 Water Source
Three in One Water Source Heat Pump 7.1kW - 46.2kW (50Hz) 410a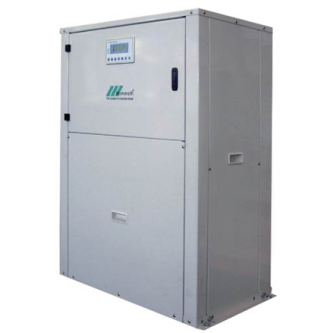 Mammoth "Three in One Water Source Heat Pump" Unit Introduction
Eight Models from 7.1 to 46.2kW

Produce hot water for space heating, Chilled water for air conditioning and domestic hot water

Can be applied to boiler/tower or ground-coupled (geothermal) loops

Can be connected to air handlers, fan coil units or gradiant floor heat system

Five modes of oprating cooling, heating, heat recovery, domestic hot water, heating with domestic hot water (priority is domestic hot water)

For floor mounted installation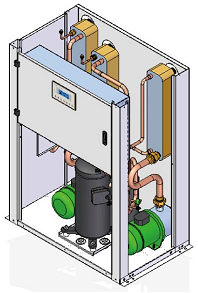 Unit Feature
Mammoth Three-in-one units are designed to supply hot and/or chilled water to terminal unit such as air handling units, fan coils, and radiant floor heating systems It also can supply free domestic hot water.This applies to water loop system(boiler /cooling tower) or geothermal system .Mammoth produces Three-in-one units in 8 sizes from 7 to 46 kW with two configurations; The 024 through 072 models incorporate a single circuit refrigeration design , while 086 through 142 models incorporate dual circuit design . Each unit is fully test run in factory before shipping.
Green
Water Source Heat Pump is flexible for installation in boiler/cooling tower applications as well as ground-source (geothermal) applications with underground water or sewage water and soil as the heat source . It use R41OA refrigerant and is enviromental friendly .
Total heat recovery
During cooling mode, the unit produce 7 t: chilled water for load side and also produces free domestic hot water with heat recovery.
Construction
The cabinet is constructed of G-60 galvanization steel.Cabinet insulation is 15 mm thick , 48 kg/m3 density, skin-coated fiberglass . The entirebottom panel is insulated with the same material to prevent condensation and reduce noise transmission
Four access panels for the compressor , pump and control box sections allow service to all major components . See Picture 1.
Refrigerant System
The refrigeration system for each circuit consists of a hermetic compressor , 3 braze-plate type water-to-refrigerant heat exchangers , thermal expansion valve , access valves , reversing valve and safety controls. The compressor is mounted on special designed mounting channel and neoprene isolators . This dual isolation ensures minimal noise transmission and quiet operation . Each refrigerant circuit has high and low side access valves for servicing.
Use stainless steel brazed-plate heat exchanger with high efficiency and anticorrosive characteristics .
Electrical and Control Box
The control box houses all the electrical components with its own access panel. Controls include a transformer ,printed-circuit board, compressor contactor, relays etc.
The control system completes with a microprocessor-based unit controller with the following features :
Five operation modes: Cooling, heating, heat recovery, domestic hot water, heating with domestic hot water (with domestic hot water as priority)

Water temperature Indication: The inlet and outlet water temperature are indicated on the thermostat.(load water , soruce water , domestic hot water)

Pump connection: Pump can be linked to work .(the control systom can integrate three pump connections)

Safety Lockout: Safety lockout prevents compressor operation if any of the safety switches trip: high pressure switch , low pressure switch , water flow switch . The unit can be reset from the wall thermostat or from the main unit disconnect.

Low pressure switch bypass: Low pressure switch will bypass the low pressure input signal for 120 seconds each time the compressor starts , to eliminate nuisance trip and to allow the suction pressure to build up at startup .

BMS communication: Use RS485 communication port to connect with BMS, see Picture 2

Others: Antifreezing protection; LCD error code display ; Timer-power-on/off etc .
Other Design Features Include
Scroll or rotary compressor(s)

Expansion valve(s)

High and low refrigerant pressure safety switches

Threaded water connections for source side

Threaded water connections for domestic hot water

Threaded water connections for load side

Insulated water and refrigerant piping
Picture 2
Other products in category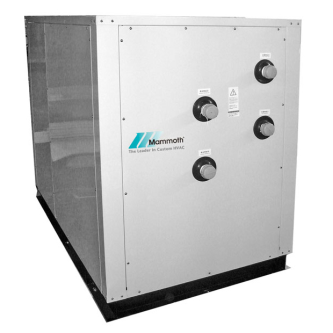 Water-to-Water Modular
Water-to-Water Modular Water Source/Geothermal Heat Pump (Chiller) 65.9kW-315kW (50Hz)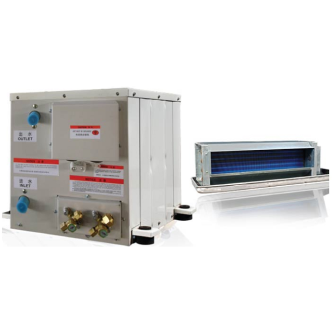 Water source (Split)
Water source screw heat pump (Split Type Unit - E Series) 2.6kW - 21.5kW (50Hz) R410A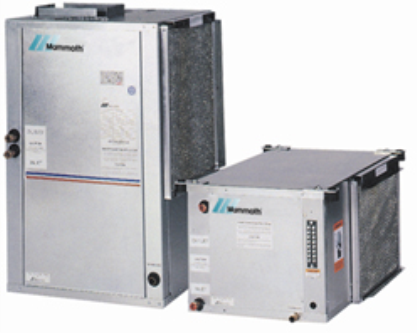 Water source (Package)
Water source screw heat pump (Package Type Unit - E Series) 2.97kW - 21.24kW (50Hz) R410A