Refrigerant
Dry, quality air is vital for long-term, trouble free operation of your processes. Atlas Copco's FX dryers protect your products and systems against damage or corrosion. They remove moisture from compressed air with a dew point as low as 3°C/37,4°F. Easy to install, simple to operate and reliable, they provide the dry air you need, allowing you to concentrate on your core business.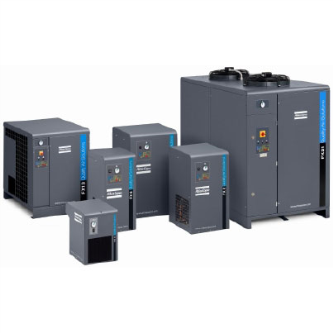 FX: Refrigerant air dryers, 7-1236 l/s, 14-2516 cfm.
Reliability - FX dryers offer a steady pressure dew point down to 3°F/37,4°F, with no freezing of condensed moisture, and no chance of moisture entering the compressed air system. They are constructed from generously sized, quality components. A simple and proven design is backed up by an effective control system (hot gas bypass) to ensure reliable performance.

Reduced energy costs – Designed to ensure a low pressure drop, the FX dryer gives you dry air at low cost.

Easy installation – Thanks to a plug and play concept, installation of your FX dryer could not be easier. You only need a single electrical connection. All units are pre-commissioned and self-regulating.

Low maintenance – Long service intervals, few component replacements and an ergonomic design for fast access to key components combine to reduce the need for maintenance to an absolute minimum.
Technical data
Product Review
---
FD: Refrigerant air dryers, 6-4000 l/s, 13-8480 cfm.
High reliability – Atlas Copco's FD refrigerant dryers eliminate system failures, production downtime and costly repairs by removing moisture from compressed air with a pressure dewpoint as low as +3°C/+37.4°F. Separate components undergo severe endurance tests while the unique design of the heat exchanger significantly improves dryer lifetime. Advanced control functions ensure dry air at all conditions and prevent freezing at low loads.

Maximum energy savings – Atlas Copco's refrigerant dryers incorporate energy-saving features that cut your carbon footprint. Incorporating unique heat exchanger technology and Saver Cycle Control, the FD ensures a low pressure drop of typically below 0.2 bar/2.9 psi and minimal energy consumption. Integrated Variable Speed Drive (VSD) technology variants offer even further energy savings by automatically tuning the energy input to the precise demand. The FD offers an extremely low total cost of ownership.

Easy installation – FD dryers have a small footprint thanks to an innovative all-in-one design. Delivered ready for use, installation is straightforward, minimizing costly production downtime. On some models, in- and outlet connections are positioned on top of the unit, enabling installation against a wall.

Environmentally friendly – Enclosed in a sound suppression canopy to reduce noise levels, FD dryers stand out by being among the most environmentally friendly and quietest in their class. They fully comply with ISO 14001 standards and Montreal Protocol regulations, and use CFC-free refrigerants to prevent any damage to the earth's ozone layer. FD dryers have an ozone depletion potential of zero.
Technical data

Technical Specifications
Capacity FAD (l/s)
6 - 4000 l/s
Capacity FAD (m³/h, cfm)
22 - 14400 m³/h
Working pressure
13 - 14 bar(e)
Product Review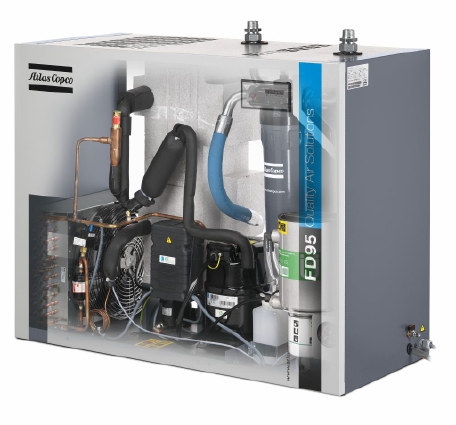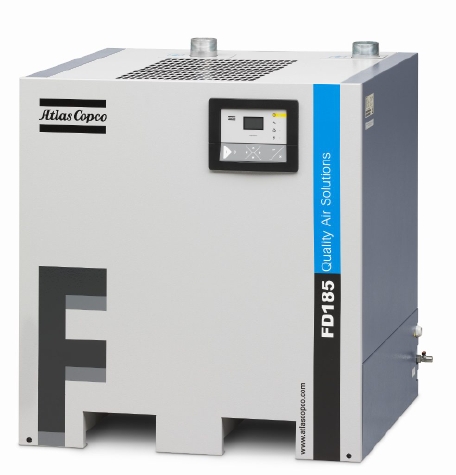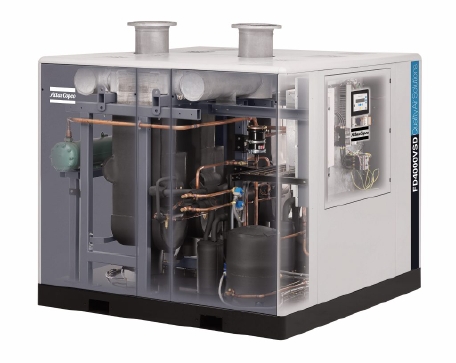 Other products in category