Air-to-Water
Air-to Water Heat Pumps (C-Series) 10kW - 38kW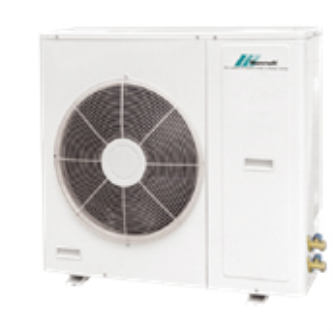 Take the central air conditioning system of large building into home, connect with fan coil units and other air handling units, completely independent temperature control system can meet the temperature requirement of each room. Unit has been widely used in villa, high class apartment, office building and hotel etc. with its advantages of high efficiency, low noise, compact structure, easy operation, safety running and convenient assembly and maintenance etc.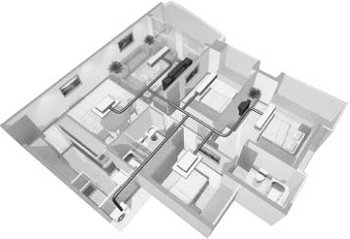 Multiple Structures. Easy Combination With Architectural Style
Cooling capacity ranges from 7.5kW to 38kW, while heating capacity ranges from 8kW to 40kW; There are split type, rear air discharge & top air discharge type and duct type(external duct connecting, suitable for limited space). Wide-range capacities and can be customized according to user's requirement.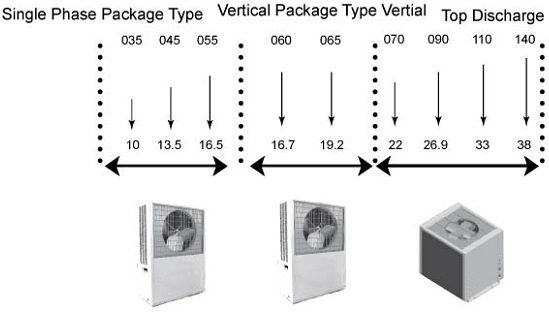 Excellent Performance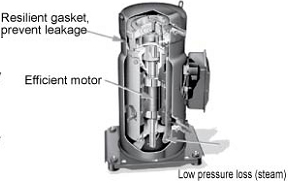 Unit utilize fully automatic micro-computer controlling technology and assembled with world famous top brand accessories. Strictly test ensures their reasonable match. Efficient screw compressor is not only with excellent performance but also low noise; High efficient heat exchanger ensures the full play of unit abilities; The reasonable matched blower, fan motor and water pump etc. guarantee the steady running and low vibration and noise.
Standardized Water System Accessory
Use water as the chilling carrier and there is no possibility of indoor refrigerant leakage. Assemble the water pipes according to building actual situation to ensure the uniformity of cooling capacity
Convenient Installation and Operation
Reasonable and compact structure design, no special installation room required, the installation space can be around house or balcony or roof. The refrigerant charging, tubing connection and water flow setting have been completed at factory. Only pipe fittings reserved for terminal equipments. After connected the inlet and outlet pipes, user can start unit by pressing one key. Both left side and right side of unit are available for inlet and outlet pipe connection, both front side and back side of unit are available for power supply connection and maintaining electrical components, water system piping is connected with standard taper thread fittings, convenient for installation and dismounting.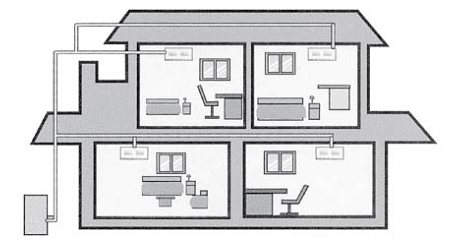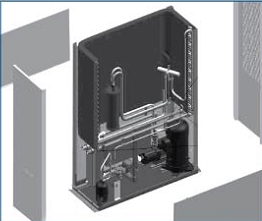 Thoughtful Safety Protection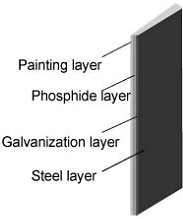 The refrigerant system has the protection devices of high, low pressure protector, discharge temperature protector and over load protector etc. which ensure the steady running. Due to the small flow section of plate brazed heat exchanger, the program measuring the leaving water temperature and refrigerant evaporating temperateur the same time to prevent brazed plate heat exchanger from freezing. Microprocessor controller automatically control unit ON/OFF by water temperature; When the temperature is too low, unit will automatically stop to avoid damage. Unit cabinet utilize galvanized steel, phosphatized and coated polyester resin on its surface, which can be used under bad environment.
Microprocessor Control
Microprocessor automatically supervise the operation status of each component and feedback to controller (including error), which makes it easier for user to judge and maintain.
Free Arrangement of Indoor Fan Coil Unit
Fan coil unit is selectable according to room structure, there are four side outlet cassette type, low static pressure concealed type, ultra-thin type and air handling units etc. for optional.
Auxiliary Facility
Auxiliary electric heater or gas heater can be added to supplement required heating Water inlet energy. Connect the auxiliary heater control circuit to unit, microcomputer will automatically control it.
Convenient Maintenance
Convenient Maintenance all components can be easily maintained after removed the access panel. If unit abnormal stopped and error occurs, microcomputer controller will display the error code which is very helpful for finding out solutions.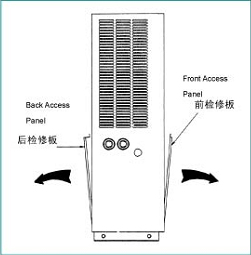 Other products in category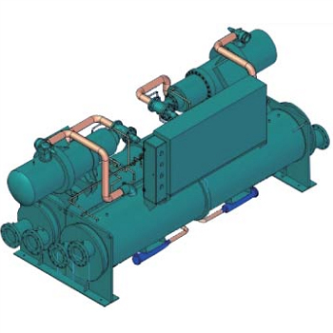 1800 Ton High Efficiency
1800 Ton High Efficiency Screw Chiller Head Pump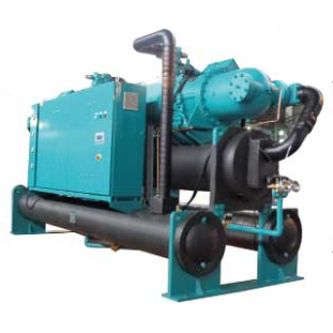 Water-cooled
Water cooled screw chiller 128kW-1,194kW (50Hz) R407c I 155kW-2,437kW (50Hz) R143a I 170kW-2,844kW (50Hz) R143a I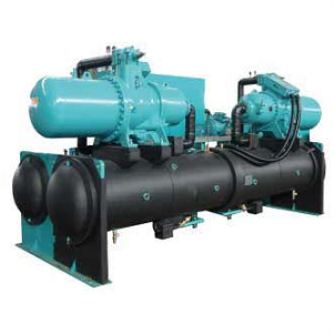 Water-to-Water
Water-to-Water Screw Water/Geothermal Source Heat Pump Flooded R134a, Transience series 179kW - 3068kW (50Hz)