About Us
Name: Gotek Vietnam Company Limited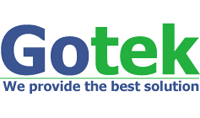 Establishment: May 2009 (10/Jul/2009)
Business: Trading and servicing to industrial manufacturing and oil & gas industries
Focus areas: Compressed air & gas systems and filtration and refrigeration
- Compressed air equipment
- Mammoth (USA): Chiler equipment
-
CS-iTec (Germany): Compressed air & Gas Measuring Equipment (Flow-meter, Dew point Meter ...)
-
Beko (Germany): Compressed air accessories (Condensate drain valves)
-
Parker Hennifin (USA): Filtration and Anodized Aluminum compressed air pipe products (compressed air, gas, LPG, CNG)
- ENE (Korea): Condensate drain valve (zero loss) for compressed air system
With more than 13 years working in industrial manufacturing segment, we realise that compressed air is very expensive and compressed air system play a crucial role in factory. Its shut down may cost company so much; Moreover, compressed air contaminants may damage the image and brand name of company. Maximising efficiency of compressed air & gas systems will help company cut down production cost and also keep company from losing image in the marketplace.
Gotek strive to be a best partner for compressed air & gas systems.
REFERENCE CUSTOMERS
-
Pham Nguyen Confectionery Co.
-
Đại Thiên Lộc Steel Sheet Co.
-
Southern Steel Sheet Co.
- Supply compressed air equipment, accessories, piping and spare parts
-
Contracting to provide maintenance and repair services to compressed air and refrigeration system
-
Audit & design services
- Air compressor and Chiller for leasing (short and long term)
CONTACT
Name: Gotek Vietnam Company Limited
Address: 127/10 Hoang Dieu 2 street, Linh Trung ward, Thu Duc district, HCMC.
Telephone: +84 (8) 37228373
Telefax: +84 (8) 37220146
Email: support@gotek.com.vn