Water-injected screw compressors
AQ-MED: Water-injected screw compressors for medical applications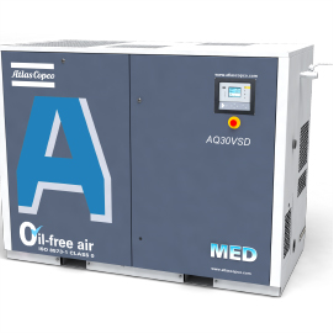 As part of a Medical Air Plant, Atlas Copco's AQ-MED water-injected screw compressors, available in water-cooled and air-cooled versions, meet your precise needs for pure, oil-free medical air while offering high-pressure capability and improved energy efficiency. Developed especially for medical applications demanding the highest levels of reliability and purity, AQ-MED compressors eliminate the risks of oil contamination, as well as the resulting extra costs. They ensure consistent 100% oil-free air while you benefit from lower operating and maintenance costs with an ISO 8573-1 CLASS 0 (2010) certified compressor. The standard installed Variable Speed Drive ensures additional energy savings.
Customer benefits
High efficiency – Thanks to the superior cooling capability of water, which ensures that the heat is removed efficiently at the source, more air per kW of power is generated. Energy savings of 35% on average are possible with the standard installed Variable Speed Drive.

Certified 100% oil-free air – AQ-MED compressors provide 100% pure, clean airthat complies with ISO 8573-1 CLASS 0 (2010) certification. CLASS 0 means zero risk of contaminating hospital pipelines; zero risk for patients; zero risk of damaging expensive equipment (e.g., anesthesia machines); and zero risk of damaging your hospital's hard-won professional reputation. In 2006, Atlas Copco was the first manufacturer in the world to receive such certification for an oil-free compressor.

Advanced control and monitoring – To maximize efficiency and reliability, the Elektronikon® MkV controls the main drive motor and regulates the system. In combination with the ES-Medical Central Controller, your Medical Air Plant is under full control and monitoring.

Quiet operation– AQ-MED compressors are supplied in a sound-insulated canopy, thus avoiding the need for additional sound isolation.

Full compliance – The Medical Air Plant uAIR series based on AQ-MED compressors is precertified according to MDD 93/42/EEC, which simplifies your installation and commissioning process. It is designed and manufactured according to ISO 9001, ISO 14001 and the ISO 13485:2003 quality management system and surpasses the requirements of the most demanding standards and regulations such as:

Medical Device Directive MDD 93/42/EEC

European pharmacopoeia

EN ISO 7396-1

ISO 14971

Health Technical Memorandums HTM 02-01 and HTM 2022.
Technical data
Capacity FAD (l/s, cfm)
22 - 83 l/s
Working pressure
7.4 - 13 bar
Installed motor power
15 - 30 kW
Weight
650 - 1631 kg
Other products in category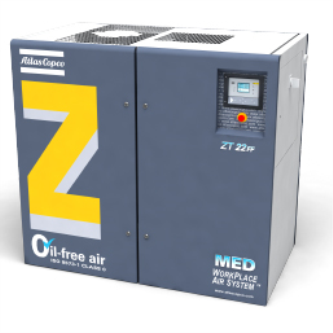 Oil-free tooth compressors
ZT-MED: Oil-free tooth compressors for medical applications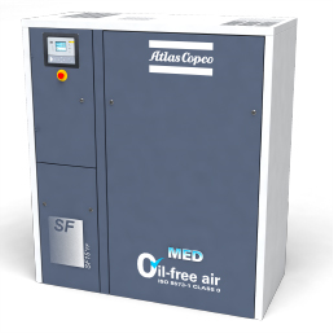 Oil-free scroll compressors
SF-MED: Oil-free scroll compressors for medical applications