Oil-free scroll compressors
SF-MED: Oil-free scroll compressors for medical applications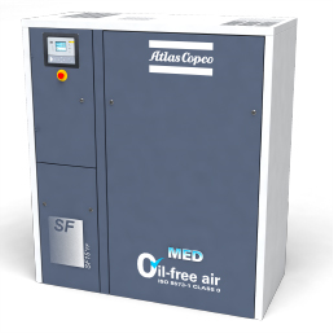 Atlas Copco's SF-MED range of oil-free compressors are especially designed to be a part of a Medical Air Plant. These ISO 8573-1 CLASS 0 certified compressors are easy to operate and maintain and have a minimal footprint to save space in your facility. SF compressors eliminate the risks of oil contamination while providing an efficient, reliable and highly cost-effective source of pure, oil-free air.
Customer benefits
Certified 100% oil-free air – SF-MED compressors provide 100% pure, clean air that complies with ISO 8573-1 CLASS 0 (2010) certification. CLASS 0 means zero risk of contaminating hospital pipelines; zero risk for patients; zero risk of damaging expensive equipment (e.g., anesthesia machines); and zero risk of damaging your hospital's hard-won professional reputation. In 2006, Atlas Copco was the first manufacturer in the world to receive such certification for an oil-free compressor.

Energy efficiency – SF-MED scroll compressors are ideal for applications where flexibility and energy efficiency are crucial.

Low maintenance – SF-MED scroll compressors stand for simplicity and reliability. The scroll design has a minimal number of moving parts, ensuring a long operating life with a minimum number of service interventions.

Advanced control and monitoring – To maximize efficiency and reliability, the Elektronikon® MkV controls the main drive motor and regulates the system. In combination with the ES-Medical Central Controller, your Medical Air Plant is under full control and monitoring.

Full compliance – The Medical Air Plant uAIR series based on SF-MED compressors is precertified according to MDD 93/42/EEC, which simplifies your installation and commissioning process. It is designed and manufactured according to ISO 9001, ISO 14001 and the ISO 13485:2003 quality management system and surpasses the requirements of the most demanding standards and regulations such as:

Medical Device Directive MDD 93/42/EEC

European pharmacopoeia

EN ISO 7396-1

ISO 14971

Health Technical Memorandums HTM 02-01 and HTM 2022.
Technical data
Capacity FAD (l/s, cfm)
2.1 - 8.8 l/s
Max working pressure
10 bar
Installed motor power
1.5 - 6 kW
Weight
105 - 140 kg
Other products in category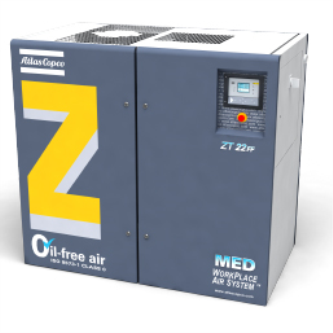 Oil-free tooth compressors
ZT-MED: Oil-free tooth compressors for medical applications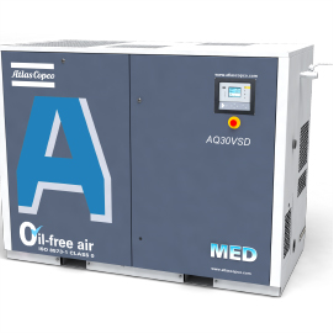 Water-injected screw compressors
AQ-MED: Water-injected screw compressors for medical applications