High Pressure
Atlas Copco's HFD air dryers remove the water remaining in compressed air after its passage through the compressor after-cooler. They are designed for high-pressure circuits (40 bar/580 psig).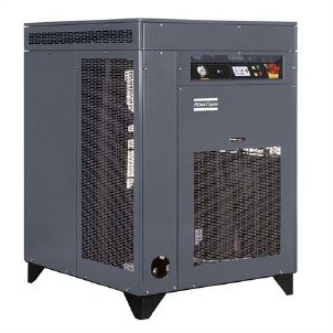 Customer benefits
Low and constant dewpoint – All HFD dryers, when installed as recommended, can reach a pressure dewpoint of +3°C/37.4°F when the compressor runs at an ambient temperature of up to 45°C/113°F and an inlet dryer temperature of up to 45°C/113°F. Dewpoint is constant at 0 to 100% load.

Generous and safe sizing to protect your process.

High efficiency – An HFD dryer employs a high-efficiency cyclone type separator to separate the condensed water from the airstream. It dries immediately without inertia. Coalescence is guaranteed to 150% of the nominal flow. The air/air exchanger reduces electrical requirements by 58%.

Environmentally-friendly – HFD dryers work with R134a and R404a refrigerants.

Safety – HFD dryers are designed for 45 bar (652 psi) working pressures and are equipped with safe electrical circuits.

Free-standing – The HFD dryer is autonomous, with an independent electrical supply, and can easily be integrated into existing installations.
Other products in category