Water source (Package)
Water source screw heat pump (Package Type Unit - E Series) 2.97kW - 21.24kW (50Hz) R410A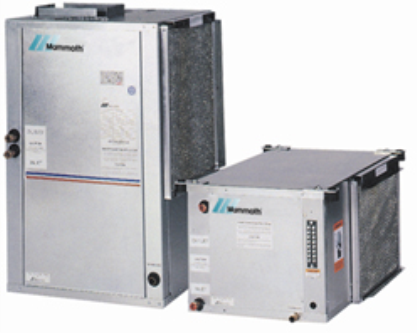 Mammoth Water Source Heat Pump Unit
Elevent Models from 2.97kW to 21.24kW

Energy efficiency up to 4.79 EER and 5.80 COP (Water Loop Condition)

Fully Tested with water

Compact size

CCC and CE Listed

Microprocessor-based control system including fan speed adjustment and condensate overflow protection

Optional Geothermal application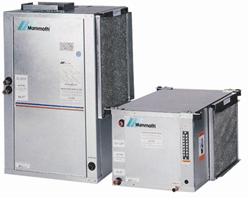 Unit Description
Mammoth offers a complete line of high efficiency horizontal units from 2.97 to 21.24 kW. Four cabinet sizes with a similar shape allow for easy layout and installation. Each unit is run-tested with water in the cooling and heating modes. All units are listed for product safety by CCC & CE.
Unit Construction
The cabinet is constructed of G-60 galvanized steel. Internal metal parts are also fabricated from galvanized steel. Cabinet insulation is 15mm thick, skin-coated fiberglass/PE. The entire bottom panel is insulated with the same material to prevent condensation and reduce noise transmission .Three access panels for the compressor , fan and control box sections allow service to all major components without removing the unit from the ceiling. The control box has its own entrance panel to limit exposure to other sections not requiring service. All major electrical components, including transformer , relays, contactor(s) and circuit board, are located inside the control box making it convenient to service the unit.
A 10 mm thick reusable filter is supplied in a factory -mounted filter bracket designed to accommodate a return air duct connection.
The units include factory-mounted hanger brackets and have four top-panel adjustable brackets with factory-mounted grommets .
All units incorporate female water fittings outside the cabinet for connection to flexible hoses. A 19 mm 0.0. condensate
connection is located outside the cabinet, adjacent to the water connections.
Refrigeration System
Refrigeration system for each circuit consists of high efficiency compressor , either rotary type or scroll type, a coaxial
water-to-refrigerant heat exchanger, an airside coil, thermal expansion valve or capillary tube, access valve, reversing valve and safety controls.
The compressor is mounted on heavy - gauge mounting rails to dampen compressor vibration . In addition, the compressor is also mounted on neoprene isolators. This dual isolation ensures minimal noise transmission and quiet operation. Each refrigeration circuit has high and low side access valves for servicing.
The water-to-refrigeration coaxial coil consists of an inner twisty tube and a steel outer tube.
Large tube diameters prevent clogging, unlike brazed type heat exchangers which require mesh strainers. The air coil is a copper-tube,aluminum finned selected for high efficiency.
The reversing valve is energized in the heating mode and is fail-safe to the cooling mode.
Safety controls include high and low (loss of charge protection) refrigeration pressure switches for each circuit. A lockout relay prevents the compressor from operating if any of the safeties trip.
Fan Section
The fan section consists of the fan wheel/housing assembly,fan motor and drain pan. Airside components are separated from the compressor section to limit noise transmission from the compressor. The drain pan extends past the coil into the compressor section for easy cleaning. It is insulated from the unit casing to prevent sweating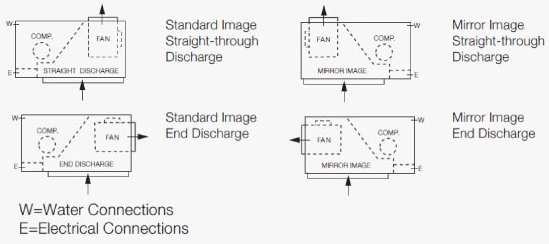 All units are capable of having two different discharge air arrangements: straight or end, both can be factory­ supplied in either configuration or simply converted from one to the other in the field. Mirror image units allow a "reversed" configuration. All units have a directdrive fan assembly. The fan motor is a multispeed,with internal overload protection. With a maximum speed of 1200 rpm, the fan is quieter than the smaller of diameter motors used in similar products. Each centrifugal fan wheel is balanced for minimum vibration.
Electrical and Control Box
The control box houses all the electrical components with its own access panel. Controls include a transformer, printed­ circuit board, compressor contactor,fan relay and a capacitor(s).
Mammoth offers a microprocessor- based unit controller and includes Features such as:
Fan speed control: Fan speed control is a standard feature with the microprocessor control system. It permits motor operate with High/Medial/Low speed to meet different requirement
Safety lockout: Safety lockout prevents compressor operation if any of the safety switches trip: high pressure switch, low pressure switch or optional freezestat. The unit can be reset from the thermostat or from the main unit disconnect.
High and low voltage protection: High and low voltage protection shuts off the unit in the event the unit voltage is too high or too low to protect the internal components from damage.
Low pressure switch bypass: Low pressure switch bypass ignores the low Pressure input signal for 120 seconds each time the compressor starts to eliminate nuisance trip and to allow the suction pressure to build at Startup.
Condensate overflow protection: Condensate overflow protection stops compressor operation if the drain pan sensor detects moisture at the top of the pan to prevent overflow due to clogged or slow draining condensate piping.
Others: Refrigerant leaking protection, Frost-protection ,Water TEMP protection, Coil Frost-protection ,High discharge TEMP protection,Water flow switch(Optionai),Fire-alarm ,LCD error code display, Water pump interlock,Timer-power-on/off, Economy operation mode etc .
Factory-mounted Options
Mammoth water source heat pumps offer numerous factory-installed options that can help minimize field labor and enhance system performance.
Cooling-only:

Units are available for those applications requiring no heating from the unit.
An extended-range package:

An extended-range package is available on all heat pump units to allow heating operation down to -s·c entering water temperature. The package includesTEV, an insulated coaxial heat exchanger and insulated refrigerant piping
25/50 mm filter

A 25 and 50 mm filter rack replaces the 10 mm rack to allow for more efficient and longer lasting 25 or 50mm filters.
Field-mounted Options
Water Flow Switch

The Water Flow Switch will shut off the unit when the water flow is smaller than limit value to protect the system
Flexible hose kits:

Flexible hose kits are available in, 3/4-inch and 1-inch diameters, 600mm and 900mm long. Each hose is constructed of braided stainless steel and has steel fittings with a swivel at one end. Hoses are rated at minimum 1000kP
Other products in category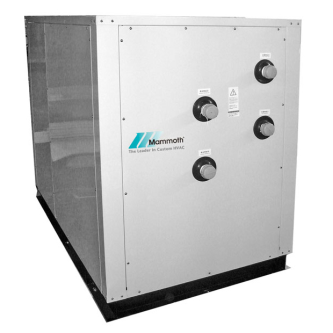 Water-to-Water Modular
Water-to-Water Modular Water Source/Geothermal Heat Pump (Chiller) 65.9kW-315kW (50Hz)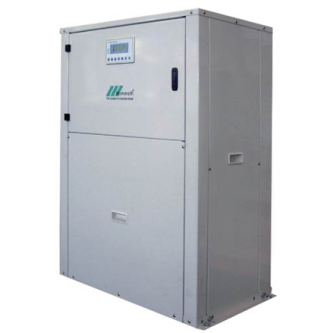 3 in 1 Water Source
Three in One Water Source Heat Pump 7.1kW - 46.2kW (50Hz) 410a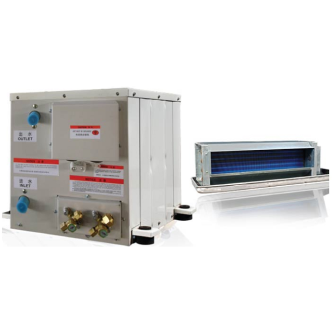 Water source (Split)
Water source screw heat pump (Split Type Unit - E Series) 2.6kW - 21.5kW (50Hz) R410A