Water-to-Water Modular
Water-to-Water Modular Water Source/Geothermal Heat Pump (Chiller) 65.9kW-315kW (50Hz)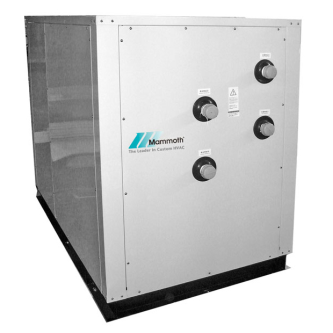 With the leading brand in the water source/ground source heat pump field in the world, Mammoth inc. always commit itself to bringing advanced and well proven water source/ground source heat pump air conditioning system to customers. The water source heat pump unit manufactured by it cover than 10 series in 2 major specifications (water-to-air type and water-to-water type). Among the products, MWH series water-to-water modular water source / ground source heat pump (water chilling units) are composed of 20tr to 30tr basic modules which can be combine freely and flexibily according to actual needs of customer for applications in various building structures such as villas, guest house, office building, dwelling house, hospital, schools, marketplaces, workshop buildings.
Features
Stable operation, efficient and energy-saving nature
Underground water not only has relatively stable temperature all the year round but also shows large heating capacity and good heat transfer performance. Therefore, the unit operates stably and is immune to seasonal temperature changes. It's operating condition is better than conventional central air conditioning equipment and the troubles of outdoor noise and operation in severe condition that always occur on air cooling heat pumps are avoided. As an efficient, energy-saving,environmental-friendly product, it's operating cost is merely 1/3-2/3 of the systems running in conventional mode.
Complete functions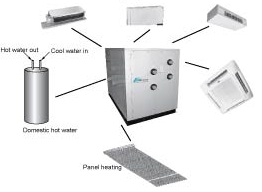 The unit not only can meet the needs for cooling in summer and heating in winter but also can supply sanitary hot water so that one unit fully serves several purposes. In addition to connection with end of an air pan to Mammoth standard, the unit can also serve as a cold/ heat source of a floor radiation heating system.
World –class hermetic scroll compressor
A world-class hermetic scroll compressor is selected to ensure efficient and reliable operation of the unit. The compressor is fitted with a jib damper (a patented technology of Mammoth) for minimizing shock and noise.
Efficient condenser and evaporator

Each unit is equipped with an efficient condenser and an efficient evaporator.
With special rib construction, it's heat exchanger has higher efficiency.With neat system flow and structure as well as stable heatexchange, less component failures and easy repair and maintenance are achieved. The efficient heat exchanger specially developed for low-temperature models allows the unit to maintain high energy efficiency under extremely low evaporating temperature.
Built-in freon system switch valve that frees you from manual switching
The unit has a built-in Freon system switch valve which frees you from switching between water system valves during cooling and heating and simplifies line valves of the system.
Built-in communication interface that is compatible with building automation systems allows easy remote monitoring
The controlsystem with perfect protections can monitor the operating condition of the unit at any time.The full Chinese human-centered operation and display interfaces can be controlled in centralized way through standard dry contacts or RS48S communication interface and are compatible with building automation management systems allowing remote communication monitoring.
100% units being tested on national-level special test beds for water source/ground source heat pumps
Each Mammoth water-to-water water-source heat pump unit has been fully actually tested on a special test bed for water source heat pumps in the factory.We have performed continuous load testing of each unit in strict accordance with our inspection system and procedure so as to ensure 100% outgoing pass rate.In addition,our units have been completely assembled and filled with refrigerant and refrigeration oil in the factory so that the end users can put their machines into operation after simply connecting water circuit and electric circuit and the time for field installation and commissioning of each unit is minimized.
Descriptions of module combinations and models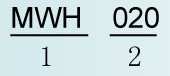 1:Product type: MWH represents water-to-water modular water source heat pump unit (water chilling unit).
2:Product serial number
Description of module combinations
The unit can be assembled and combined freely with the 2 types of basic modules. However, it is recommended that combinations of same modules be used as far as possible in view of water balance.The modular water inlet and outlet pipes go in the same way.At the same time,the number of module combinations should not exceed 6 for one unit. For example,MWH060 can be assembled using two 030 modules or three 020 modules.
Other products in category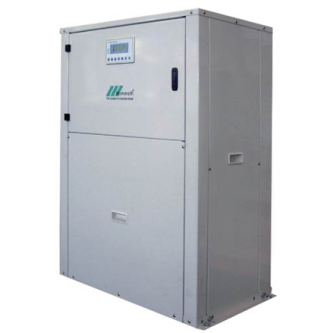 3 in 1 Water Source
Three in One Water Source Heat Pump 7.1kW - 46.2kW (50Hz) 410a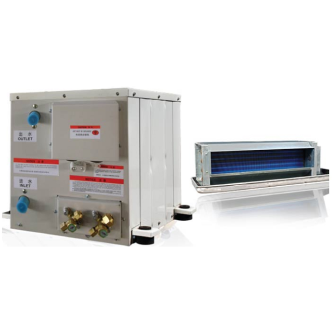 Water source (Split)
Water source screw heat pump (Split Type Unit - E Series) 2.6kW - 21.5kW (50Hz) R410A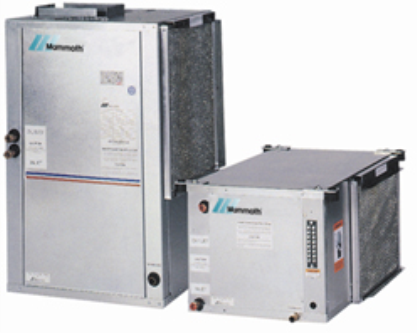 Water source (Package)
Water source screw heat pump (Package Type Unit - E Series) 2.97kW - 21.24kW (50Hz) R410A